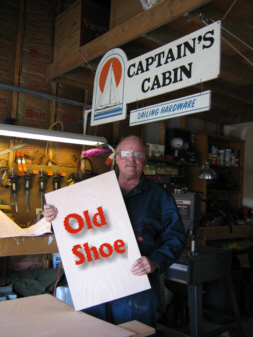 On this Page:
Read my plans for this page
Launch Day Arrives
The Wooden Boat Festival
More Sailing Adventures

On Other Pages on This Site: Site Contents - The Project - The Plans -
The Materials - Bulkheads - Keel and Ballast - Winter Projects -
Mast Fabrication - Putting The Hull Together - Rigging the Old Shoe - Boat Building Links
Contact Information: oldshoe_1@hotmail.com
---
This page with text and photographs documents my sailing adventures in my Old Shoe.
---
Launch day officially arrived on July 18, 2009. We had a pretty good crowd turn out for the Christening and launch. Rigging went smoothly prior to launch and the day was perfect with a gentle breeze.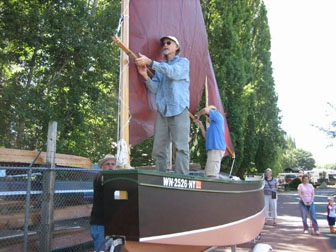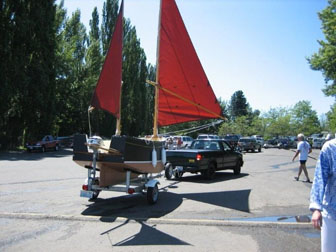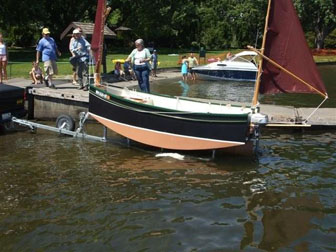 The boat ramps at Lake Whatcom in Bellingham, Wa. are not very steep. Designed more for shallow drafted ski boats, it proved a challenge to launch my 12.5" draft, full keel boat.
We soon discovered as we backed into the water that the rear end of each bunk on the trailer was too tall, or up too high in order to conform the bunk to the rocker of the bottom of the hull. As a result, I could not back far enough down the ramp to get the boat to float clear of the rear ends of the bunks. We had to actually disconnect the trailer and using a tow strap for safety, rolled the trailer further down the ramp by hand until we got "Pearl" to float free. And float she did! Just like a duck.. well above her waterline.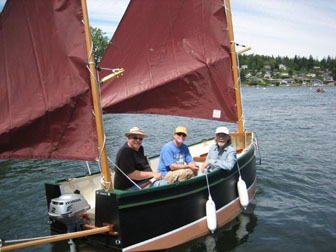 I invited my two dear friends Mike Keers and Lance Eckhart to join me for the inaugural sail. It is truly amazing how big this boat feels for just 12ft. We were actually able to sail away from the dock, so gentle and easy to handle. I immediately found the helm to be positive and light. With the high freeboard, one has the feeling of being in an easy chair while sailing.
The boat pointed quite well, but true to reports, she has a lot of leeway, especially in light winds and waves can stop her when she is moving slowly. Coming about is very much like a full keel sailboat. You ease her around and without good way on, you can be in irons before you know it.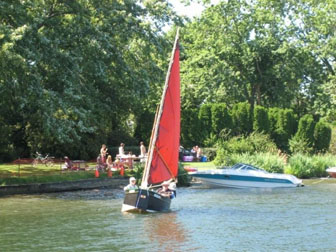 When the breeze picks up, Pearl is the happiest. She puts her shoulder down and drives forward like a champ. The boat is no slouch and seems to produce a good turn of speed. A broad reach is her best for speed. The mizzen does affect steering and can be used for good advantage. I'm still learning that skill.
Before we knew it, we had been out over 2 hrs. and just about did not want it to end. I did fire up the outboard and make a brief run to test it.. the Honda 2hp is a perfect match for the Old Shoe and easily moves her at hull speed. The motor is noisier than I expected for a 4 stroke with underwater exhaust. What I think is happening is motor vibration is be resonated through the hull and is magnified.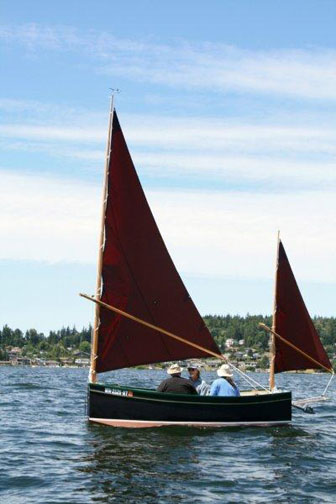 One point I would like to mention here is that the free flooding rear compartment tends to fill with water, if the boat trim is allowed to squat in the stern. That water can migrate forward over the tops of the leeward seats, making for some wet seating.
It is my personal feeling that the free flooding in the stern area is not necessary, in fact it might be an issue for the Coast Guard, should you have a gas spill and gasoline should make its way outside the boat through those flooding holes. I will plug mine while underway and leave them open for storage drainage.
We decided to sail to the dock. With that leeway issue, it was a challenge, I gave the helm to the more skillful hands of Lance and he brought us smartly to the dock with ease.
The Old Shoe is everything I have heard and more. She is truly "old school" in design and rig. I am very proud of this accomplishment and look forward to many years of easy sailing ahead of me.
The caveat will be the Wooden Boat festival at Port Townsend, Washington in September 11,12 and 13, 2009. If any of you are in the area, "Pearl" will be there on her trailer with full sail up.. it will be a sight.

Back To The Top
---
September 11, 12, and 13, 2009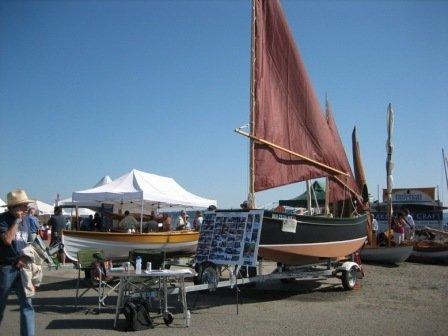 I entered my Old Shoe "Pearl" in the Port Townsend Wooden Boat Festival on September 11, 12 and 13th of 2009.
I can say that this was a major highlight of my life, a dream come true.
What a gratifying feeling to have something you built with your own hands, on display at "the" major wooden boat festival of the Pacific Northwest. I considered it to be a great honor.
We had wonderful weather and a good crowd.
.
.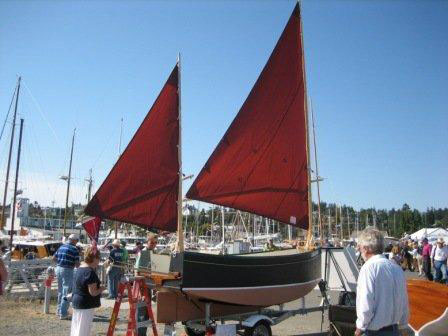 As expected, not many folks knew or understood a Phil Bolger design.
I had to bite my tongue a few times, reacting to off the cuff comments, ranging from down right ugly to insulting. But for those that knew of the designer, I received enough favorable comments to fill my ego for a lifetime.
I only regretted not displaying the boat in the water, as I would have enjoyed taking her out for the final sail-by at the end of the show.

Back To The Top
---

Back To The Top
---
This page was created by dlancast_2@hotmail.com
Return to This Sailing Page -Home
Return to Solo Publications Web Index
March 23, 2010