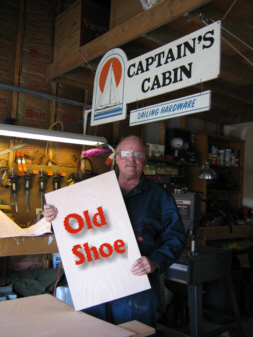 Contents
On This Page:
Contents
The Project - The Building of Old Shoe
The Plans
Tools
Materials
Boat Building Links

On Other Pages on This Site:
Bulkheads - Keel and Ballast - Winter Projects - Mast Fabrication - Putting The Hull Together - Deck & Interior Assembly - Rigging the Old Shoe - Sailing My Old Shoe - Boat Building Links
e-mail to: oldshoe_1@hotmail.com
---
The focal point of this page is the construction of an Old Shoe from plans purchased at Common Sense Designs.
The purpose of this web page is to provide information on Lancaster Boat Works, and to provide a portal for access to on-line information on the Old Shoe and other boats designed by Phil Bolger. Links are also provided to other boat building web pages.
This page has no affiliation with any manufacturer of sailboats other than Lancaster Boat Works.

Back To The Top
---
The Project - The Building of Old Shoe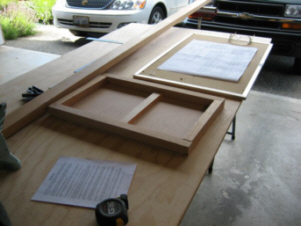 After selling my Columbia 8.7 cruising sailboat, I began the search for a boat that I could easily build and that would fulfill my desire to continue sailing in something that I could easily handle by myself and trailer to where ever I felt like sailing. I was directed to Phil Bolger's designs and while visiting the web site: http://www.boatdesign.com/micro/index.html
I found a link for a smaller version of the famous Bolger Micro, called "Old Shoe". Subsequent research led me to one builder who was able to share his experiences with the "Shoe". That report was very positive. The "Shoe" is easy to handle and somewhat easy to build. I decided that this was the boat that I wanted to build. I am also in love with Phil Bolger's Micro. I am considering that as my "next" build… so many boats, so little time.
I am located up in the upper left corner of the US in a small town called Bellingham, Washington. Weather will affect the build since I have no way to adequately heat my garage. I am hoping that a significant portion of the epoxy work can be accomplished before winter sets in. I'm trying not to rush this project. Rather, I wish to make this project a fun task and a learning experience.
Actual work began July 30, 2006.

Back To The Top
---
The Plans - Plans for the Old Shoe
I purchased my Old Shoe plans at Common Sense Designs. A line drawing of the Old Shoe is reproduced here courtesy of Chuck Merrell of Elrow La Roe's Micro Newsletter:http://www.boatdesign.com/micro/letters/mnl07.htm, who granted permission to republish this drawing here.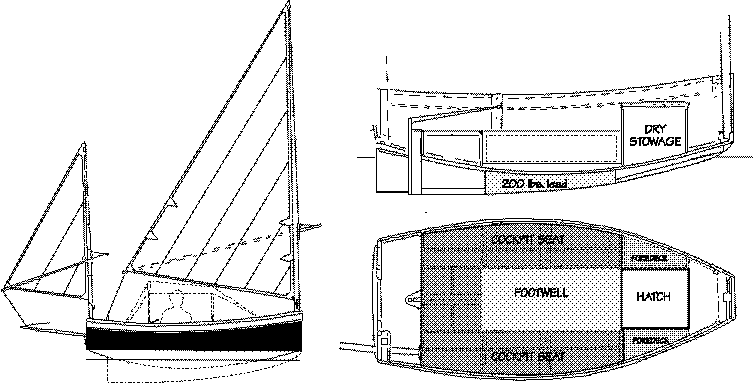 Back To The Top
---
Initial Tool List
10" Skill saw, jig saw,
12" band saw,
6" jointer,
compound miter saw,
10" table saw,
12" planer,
cordless and plug in drills,
many clamps,
several hand planes,
grinder,
squares, etc.
The build will take place in a two-car garage, in Bellingham, Washington. The plan is to utilize one side of garage until the hull is formed. Eventually the entire garage space will be required.
I created a nice layout and worktable from ¾" x 4' x 8' interior plywood. It is pretty much sacrificial, so am not worried about it. It sits on top of two sawhorses and makes nice stable work surface. All power tools can be moved at will.
Beginning with all bulkheads, I will cut out all parts and pieces and group them in "kits" for assembly after penetrating epoxy has been applied. Then they will be assembled. My first task was to cut Bulkhead no. #1. This is the forward transom bulkhead.
Tools that I Added Along the Way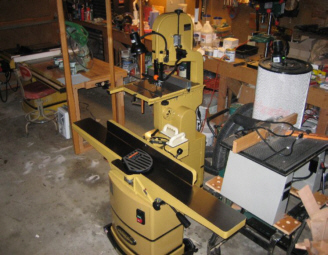 In 2008, I revised my tool list to include the following new tools. My list of new tools includes the following:
Powermatic 10" table saw with wood table extension, Powermatic 14" bandsaw,
Powermatic 6" Jointer, Grizzly drill press,
Grizzly dust collector,
Porter Cable 690 router and table,
Milwalkee right angle grinder, Porter cable belt sander and 16 new clamps.
An assortment of new drills and Forsener bits.
.

Back To The Top
---
All materials must be calculated from the plans and instruction manual. I think it's a very good idea for any builder to go through this process independently, since determining material requirements provides good insight into what will be going into the materials for the building of Old Shoe. Instead of a list, I have chosen to give contact information for the suppliers that I used, in hopes that this will be helpful to some in sourcing.
Wood Products: Edensaw Woods LTD.
211 Seton Road
Port Townsend, WA 98268
(360)385-7878
Toll-Free: (800) 745-3336 Email:
info@edensaw.com
http://www.edensaw.com/index.asp
Fasteners: Hamilton Marine
Searsport & Portland, ME
1-800-639-2715
www.hamiltonmarine.com
Fiberglass/Epoxy: Fiberglass Coatings Inc.
4301 A 34th St. North
St. Petersburg, FL 33714
1-800-272-7890
www.fgci.com

Back To The Top
---
Old Shoe and Related Sites
A great site for anyone interested in building an Old Shoe. Bill Nicolay's photo of the Bolger Oldshoe "FAR OUT" was modified to serve as the background on this page.
Another great Old Shoe page
A link list worth the effort
photos and links to some big ol' Bolger boats
High Performance/Low Cost Sails for Small Sailboats